Richway Amethyst Biomat 7000mx Mini
This is the perfect take-along for trips, to keep at the office or to share with a friend or family member who would benefit from using this therapeutic device. Great to use in easy chairs, Med-Spa, dental & office chairs. Many customers purchase the Mini in addition to the Professional size, and use the Mini on top of them while laying on the Pro. It is also the perfect size for children. Many of our customers have also purchased the Mini-Mat for their beloved pet. The Richway Amethyst Biomat Mini comes with a hard shell travel case.
Measures 19.68"w x 33.46"h
Electric Consumption: 100w
Temperature: 35c to 70c / 95f to 158f
(Pillow sold seperately.)
| | |
| --- | --- |
| Measures: | 19.68"w x 33.46"h / 850 x 500mm |
| Net Weight: | 7.93 lbs without controller / 3.6 kg |
| Electric Consumption: | 100 w |
| Voltage: | AC 120v |
| Temperature: | 95f to 158f / 36c to 70c |
| Amethyst: | 2.64 lbs / 1.2 kg |
| Tourmaline: | 2.64 lbs / 1.2 kg |
| Cut and Shape: | Tumbled |
$780.00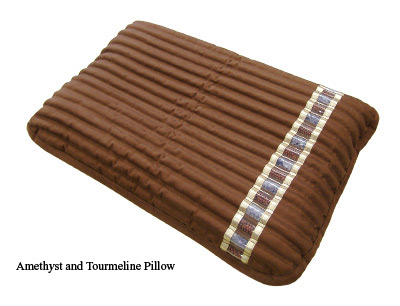 Related Item:Amethyst and Tourmaline Pillow
Our Elastic Polyurethane memory foam pillow features a therapeutic shape to provide important neck stabilization to ensure an anatomically supportive sleep posture. 100% cotton zip cover contains channels of Amethyst and Tourmaline crystals. The cover can be removed and used as a body wrap for chest, stomach, arms, and legs to assist in relief of many ailments.
Measurements: 19" x 12" x 4.3"
$380.00


Related Item: Bio-Mat Geranium Power Pad 187 Waterproof Cover
Our waterproof covers are sweat resistant and bacteria resistant and helps protect your Biomat from moisture and odors. Made with 100% Cotton and Geranium. Geranium naturally emits Far Infrared Rays and Negative Ions. This allows for good blood circulation and eliminates minor pain. It also activates immune cells and prevents cell aging by supplying oxygen into cells. In addition, Geranium's far infrared rays have the effect of releasing heavy metals from the body. The effect also aids in relieving arthritis and headaches.(This item replaces our previous waterproof cover. Similiar to image shown.)
Sizes:
King 74" x 80"
Queen 56" x 79"
Single 40" x 79"
Pro 28.5" x 72"
Mini 20.5" x 34"
Mini: Measures 20.5" x 34"
$100.00


"Steve,

I love it, I am sleeping so much better and feel so wonderful and peaceful after I get off the mat. I have not got on the Getting Started info, I will. This is an incredible product.
It has also helped me in my meditation, I do not know how to put it into words but what I feel is so different, this affects me the entire day in a very positive manner.
Everyone Should Own One!!!

Thank-you,"

Cheryl J.
Princeton, MA
April, 2010
*Legal Disclaimer. Specific medical advice should be obtained from a licensed health care practitioner.