Amethyst Biomat 7000 Pro and Pillow
The Amethyst Biomat Professional Package is a great tool for health practioners, spas, massage therapists and chiropractors. It includes the Biomat 7000mx, a hard shell travel case with wheels and solid bar handle for ease to transport the Biomat, 100% cotton padded cover to protect the biomat, and the controller. This is an U.S F.D.A. Approved Class II Medical Device. And includes the Amethyst and Tourmaline Pillow which features a therapeutic shape to provide additional support for your neck while comfortably cradling your head.
$100 Professional discount with copy of license. See our FAQs for more information.
| | |
| --- | --- |
| Measures: | 27.55"w x 72.83"h / 700 x 1850mm |
| Net Weight: | 25.35 lbs without controller / 11.5 kg |
| Electric Consumption: | 180 w |
| Voltage: | AC 120v |
| Temperature: | 95f to 158f / 36c to 70c |
| Infrared Ray: | 8 - 14 Microm. Max (8000nm - 14000nm) |
| Negative Ion: | 1 - 15% |
| Negative Ion: | 700 Volts of negative potential |
| Amethyst Size: | 3mm - 5mm |
| Amethyst Color: | Natural Violet Clear |
| Cut and Shape: | Tumbled |
| Polariscope Test: | D.R. |
| Specific Gravity: | 2.65 |
| Hardness: | 7 |
| Refractive Index: | 1.544 - 1.553 |
| Fluorescence LW: | No refraction, Natural factor |
$1950.00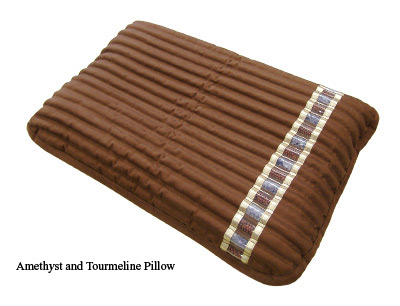 Amethyst and Tourmaline Pillow
Our Elastic Polyurethane memory foam pillow features a therapeutic shape to provide important neck stabilization to ensure an anatomically supportive sleep posture. 100% cotton zip cover contains channels of Amethyst and Tourmaline crystals. The cover can be removed and used as a body wrap for chest, stomach, arms, and legs to assist in relief of many ailments.
Measurements: 19" x 12" x 4.3"
$380.00


Related Item: Biomat Geranium Power Pad 187 Waterproof Cover
Our waterproof covers are sweat resistant and bacteria resistant and helps protect your Biomat from moisture and odors. Made with 100% Cotton and Geranium. Geranium naturally emits Far Infrared Rays and Negative Ions. This allows for good blood circulation and eliminates minor pain. It also activates immune cells and prevents cell aging by supplying oxygen into cells. In addition, Geranium's far infrared rays have the effect of releasing heavy metals from the body. The effect also aids in relieving arthritis and headaches.(This item replaces our previous waterproof cover. Similiar to image shown.)
Sizes:
King 74" x 80"
Queen 56" x 79"
Single 40" x 79"
Pro 28.5" x 72"
Mini 20.5" x 34"
Professional: Measures 28.5" x 72"
$180.00


"Hey Steve!

I am so in love with the biomat because it gives my whole body a source of energized heat, that is much needed after coming down from cold, snowy mountain tops. I feel like my muscles relax so quickly that I wake up in the morning feeling rejuvenated, recharged, and re-focused for a day of training, competing, or traveling. There is nothing in the world like it, and the benefits seem to be huge.

thanks again, p-e-a-c-e"

Hannah Teter
Silver Medalist in Snowboarding Halfpipe
2010 Vancouver, Canada Olympic Games (ed. 2/10)
Gold Medalist in Snowboarding Halfpipe
2006 Torino, Italy Olympic Games
October, 2009

Hannah has a special charity set up and can use your help, please visit hannahsgold.com
*Legal Disclaimer. Specific medical advice should be obtained from a licensed health care practitioner.