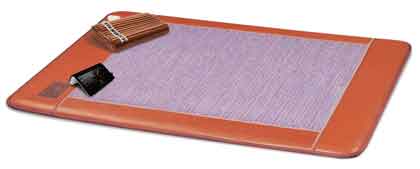 Richway Amethyst Biomat 7000mx Single
For a Single size mattress, fits nicely on a twin bed.
(Pillow sold separately.)
| | |
| --- | --- |
| Measures: | 39.37"w x 78.74"h / 1000 x 2000mm |
| Net Weight: | 39.68 lbs without controller / 18 kg |
| Electric Consumption: | 180 w |
| Voltage: | AC 120v |
| Temperature: | 95f to 158f / 36c to 70c |
| Infrared Ray: | 5 - 14 Microm. Max (5000nm - 14000nm) |
| Negative Ion: | 700 Volts of negative potential |
| Amethyst Size: | 5mm - 12mm |
| Amethyst Color: | Natural Violet Clear |
| Cut and Shape: | Tumbled |
| Polariscope Test: | D.R. |
| Specific Gravity: | 2.65 |
| Hardness: | 7 |
| Refractive Index: | 1.544 - 1.553 |
| Fluorescence LW: | No refraction, Natural factor |
$2950.00


Related Item: Bio-Mat Geranium Power Pad 187 Waterproof Cover
Our waterproof covers are sweat resistant and bacteria resistant and helps protect your Biomat from moisture and odors. Made with 100% Cotton and Geranium. Geranium naturally emits Far Infrared Rays and Negative Ions. This allows for good blood circulation and eliminates minor pain. It also activates immune cells and prevents cell aging by supplying oxygen into cells. In addition, Geranium's far infrared rays have the effect of releasing heavy metals from the body. The effect also aids in relieving arthritis and headaches.(This item replaces our previous waterproof cover. Similiar to image shown.)
Sizes:
King 74" x 80"
Queen 56" x 79"
Single 40" x 79"
Pro 28.5" x 72"
Mini 20.5" x 34"
Single: Measures 40" x 79"
$300.00


Related Item:Biomat Quantum Energy Pad

Biomat Quantum Energy Pad composed of environmentally friendly raw materials such as organic compound energy extracted from peach and grape seeds, which is beneficial to the human body's biological vibration. 6 Layer Structure: Microfiber Fabric Cover, Microfiber Layer, Quantum Energy Layer, Liquid Tourmaline Layer, 3D Mesh Layer (20mm), 3D Mesh Cover (3mm).
Measurements:
King: 21.2 lbs / 78.74" x 70.86" x 1.57"; Queen: 17.5 lbs / 78.74" x 59.06" x 1.57"; Single: 11 lbs / 78.74" x 39.37" x 1.57": Professional: 10 lbs / 72.83" x 27.56" x 1.57".
Single: Measures 78.74" x 39.37" x 1.57"
$520.00


"We are loving our Biomat! Thanks for the site information.

The day we got the mat and I lay on it. I felt my lungs get really warm, and felt better for the first time in a couple of weeks.

Bill's and my aches and pains are already much relieved. A couple of my clients have tried it and loved it.

We are very happy we bought it."

Bill and Jan
Big Sur, CA
May 2007
*Legal Disclaimer. Specific medical advice should be obtained from a licensed health care practitioner.