Order Amethyst Biomat products by Richway Fuji Bio Inc. for Singapore
This page is for all orders for Singapore.
We also ship to - Korea
We also ship to - Hong Kong
We also ship to - Thailand
We also ship worldwide - International orders
All products ordered from this page are in 220/240v electricity. There is no extra charge for 220/240v electricity products.
If you need 100v (110v) electricity compatible products just send us an email after you order, and note it in the Comments box on the order form. Please send us an email for shipping pricing if there are other products you are interested in.
Due to COVID-19 restrictions, orders may have a slight delay in shipping.
We accept payment through our shopping cart with Paypal and Amazon Pay. Pay with Paypal, Paypal Credit or any major credit card as well as Amazon Pay. You do not need an account to use a credit card with Paypal. If you still want to order with a credit card and not use Paypal or Amazon Pay, give us a call toll free at 1-877-Bio-Mat-Order (1-877-246-6286) or contact us at Sales. When you click to add an item to our shopping cart, you will be taken to our secure shopping cart https://orderthebiomat.com.
Every Biomat order includes the Biomat 7000mx, 100% cotton padded cover to protect the bio-mat, controller, soft carry case.
---------------------------------------------------

Amethyst Biomat 7000mx Professional
This is the Biomat for all-purpose functionality and ease of mobility. Great tool for massage therapists and chiropractors.
(shown with Pillow sold seperately.)
$100 Professional discount with copy of license.
Measures: 27.55"w x 72.83"h
Electric Consumption: 180w
Temperature: 35c to 70c / 95f to 158f
$1950.00


---------------------------------------------------
Amethyst Biomat 7000mx Mini-Mat
This is the perfect take-along for trips, to keep at the office or to share with a friend or family member who would benefit from using this therapeutic device and is great to use in easy chairs, Med-Spa, dental & office chairs. Many customers purchase the Mini in addition to the Professional size, and use the Mini on top of them while laying on the Pro. It is also the perfect size for children. Many of our customers have also purchased the Mini-Mat for their beloved pet. The Amethyst Bio-Mat Mini comes with a travel case.
Measures 19.68"w x 33.46"h
Electric Consumption: 100w
Temperature: 35c to 70c / 95f to 158f
(Pillow sold seperately.)
$780.00


---------------------------------------------------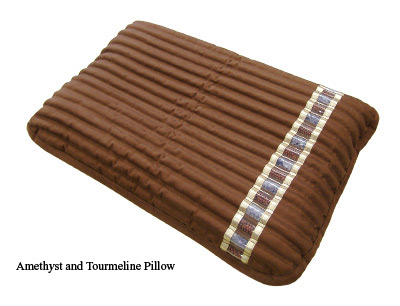 Amethyst and Tourmaline Pillow
Our Elastic Polyurethane memory foam pillow features a therapeutic shape to provide important neck stabilization to ensure an anatomically supportive sleep posture. 100% cotton zip cover contains channels of Amethyst and Tourmaline crystals. The cover can be removed and used as a body wrap for chest, stomach, arms, and legs to assist in relief of many ailments.
Measurements: 19" x 12" x 4.3"
$380.00


---------------------------------------------------
*Legal Disclaimer. Specific medical advice should be obtained from a licensed health care practitioner.