Order Amethyst Biomat products by Richway Fuji Bio Inc. for Hong Kong
This page is for all orders for Hong Kong.
We also ship to - Singapore
We also ship to - Indonesia
We also ship to - Thailand
We also ship worldwide - International orders
All products ordered from this page are in 220/240v electricity. There is no extra charge for 220/240v electricity products. If it is in stock expect about 7-14 business days for delivery.
If you need 100v (110v) electricity compatible products just send us an email after you order, and note it in the Comments box on the order form. We are not responsible for any import fees or taxes.
Due to COVID-19 restrictions, orders may have a slight delay in shipping.
We accept payment through our shopping cart with Paypal and Amazon Pay. Pay with Paypal, Paypal Credit or any major credit card as well as Amazon Pay. You do not need an account to use a credit card with Paypal. If you still want to order with a credit card and not use Paypal or Amazon Pay, give us a call toll free at 1-877-Bio-Mat-Order (1-877-246-6286) or contact us at Sales. When you click to add an item to our shopping cart, you will be taken to our secure shopping cart https://orderthebiomat.com.
Every Biomat order includes the Biomat 7000mx, 100% cotton padded cover to protect the biomat, controller, soft carry case.
---------------------------------------------------

Amethyst Biomat 7000mx Professional
This is the Biomat for all-purpose functionality and ease of mobility. Great tool for massage therapists and chiropractors.
(shown with Pillow sold seperately.)
$100 Professional discount with copy of license.
Measures: 27.55"w x 72.83"h
Electric Consumption: 180w
Temperature: 35c to 70c / 95f to 158f
$1950.00


---------------------------------------------------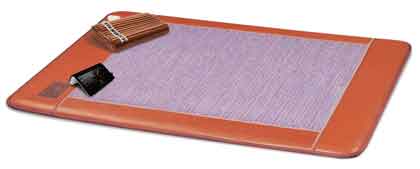 Amethyst Biomat 7000mx Single
Fits nicely on a twin bed.
Measures 39.37"w x 78.74"h
Electric Consumption: 180w
Temperature: 35c to 70c / 95f to 158f
(Pillow sold seperately.)
$2950.00


---------------------------------------------------
Amethyst Biomat 7000mx Mini-Mat
This is the perfect take-along for trips, to keep at the office or to share with a friend or family member who would benefit from using this therapeutic device and is great to use in easy chairs, Med-Spa, dental & office chairs. Many customers purchase the Mini in addition to the Professional size, and use the Mini on top of them while laying on the Pro. It is also the perfect size for children. Many of our customers have also purchased the Mini-Mat for their beloved pet. The Amethyst Bio-Mat Mini comes with a travel case.
Measures 19.68"w x 33.46"h
Electric Consumption: 100w
Temperature: 35c to 70c / 95f to 158f
(Pillow sold seperately.)
$780.00


----------------------
Richway Biobelt

We have carefully selected the most effective semi-precious stones to enhance the power of the Biobelt. The far infrared energy generated from these stones will gently penetrate your body providing warmth and comfort. Far Infrared rays generated from 8 different types of jewels: Amethyst, Tourmaline, Green Jade, Crystal, Citrine, Topaz, Tiger's Eye, and Elvan. Many customers also purchase the Biobelt in addition to the Professional size, and use the Biobelt on their waist while laying on the Professional. Dimensions:
Reg 55.11" x 5"
XL 62.99" x 5"
Regular: Measures 55.11" x 5"
$600.00


XL: Measures 62.99" x 5"
$600.00


---------------------------------------------------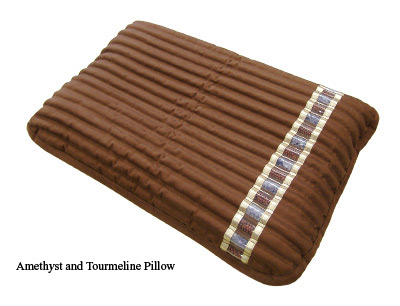 Amethyst and Tourmaline Pillow
Our Elastic Polyurethane memory foam pillow features a therapeutic shape to provide important neck stabilization to ensure an anatomically supportive sleep posture. 100% cotton zip cover contains channels of Amethyst and Tourmaline crystals. The cover can be removed and used as a body wrap for chest, stomach, arms, and legs to assist in relief of many ailments.
Measurements: 19" x 12" x 4.3"
$380.00


----------------------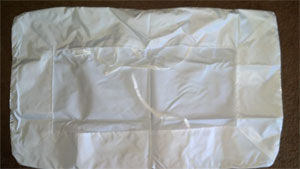 Biomat Geranium Power Pad 187 Waterproof Cover

Waterproof covers are sweat resistant and bacteria resistant and helps protect your Biomat from moisture and odors. Made with 100% Cotton and Geranium. Geranium naturally emits Far Infrared Rays and Negative Ions. This allows for good blood circulation and eliminates minor pain. It also activates immune cells and prevents cell aging by supplying oxygen into cells. In addition, Geranium's far infrared rays have the effect of releasing heavy metals from the body. The effect also aids in relieving arthritis and headaches. (This item replaces our previous waterproof cover.) Dimensions:
Sizes: Pro 28.5" x 72", Mini 20.5" x 34".
Similiar to image shown.
Pro 28.5" x 72"
$180.00


Mini 20.5" x 34"
$100.00


---------------------------------------------------
Alkaline Water Ionizer Alkal-Life 7000SL
Water purification and Ionizer system
Voice automated
Creates purified Alkaline Ion water from ordinary tap water
U.S. F.D.A. Medical Device: 300505378
Rated voltage: 120vac
Rated frequency: 50/60 Hz
Rated current: 3 A (5 A max)
Electrodes: Platinum thick-coated titanium electrode 5 pins
Water intake pressure: 0.5-7.0 kg/cm2
Unit weight: 3.5kg
Unit dimensions: 271mm w x 367mm h x 138mm d
Water cleaning cartridge service life: sufficient for filtering residual chlorine from 3000 gallons tap water. (Actual performane may differ depending on water quality)
Electrolysis tank cleaning: double auto-change cross-line system
Protection circuits: 8-A fuse, constant current control circuit, anti-overheating device.
$2500.00


---------------------------------------------------
*Legal Disclaimer. Specific medical advice should be obtained from a licensed health care practitioner.